Nedbank repossessed cars and vehicles for sale in South Africa are ideal if you are looking to buy a bargain car. You can try pick up Nedbank repo vehicles. Repossession takes place when a person who has bought a financed vehicle falls behind. Or does not honor the monthly payment agreements. If this happens, Nedbank or the bank that financed the asset is liable to repossess it.
As a financial services provider, Nedbank repossesses vehicles from people who can't pay the regular instalments. Or from people who abuse the lending terms. Such as using the car as surety for another loan.
These cars are sold at a Nedbank vehicle auction, often for very competitive prices.
Is it OK to buy Repossessed Cars?
Yes it is OK to buy repossessed cars. In South Africa a lot of people regularly fall behind on monthly vehicle repayments.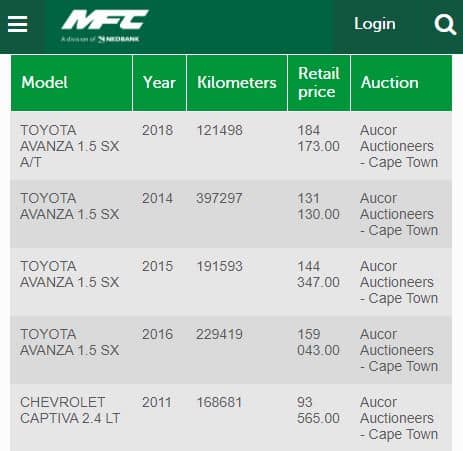 So you may think that a repossessed vehicle will have been neglected and not gone through regular service intervals.
This may be the case with some of the cars going on auction. But in general the vehicles are in good condition. Therefore it is OK to buy repossessed cars at an auction.
Particularly in times of a global recession, more and more people find that they are unable to make the necessary payments on their vehicle financing. Letting the less affected take advantage of some great car deals.
Inflation and interest rates are on the rise, along with the variation and amount of repossesses cars.
As a buyer, you are able to by these used vehicles well below prices they originally sell for.
When you are buying a repossessed vehicle, you are essentially cutting out the middle man which can save you a lot of money.
Nedbank (MFC) Finance for Nedbank Repossessed Cars
The good news is that you can get finance to pick up Nedbank repo vehicles at hand-rubbing prices.
In fact, because Nedbank will want to sell the car quickly to make up for any losses, they will often provide the financing you need. Through their MFC vehicle finance division.
MFC stands for "Motor Finance Corporation" – a division of Nedbank LTD.
You can visit the MFC Finance website here.
On the day of the auction, there will usually be a Nedbank counter where you can ask about MFC financing options. And get advice on how much you would be able to bid.
How Does a Vehicle Auction Sale Work?
Nedbank will set the vehicle's starting price and the car will be put up for auction.
In major cities such as Cape Town, Johannesburg, Durban and Port Elizabeth, there are weekly events at auction houses such as Aucor Auctioneers and Burchmores Auctioneers.
Nedbank auctions to buy cars are done through MFC finance.
The bank will decide on the car's starting price. And if they receive more than this amount the balance will go to the previous owner of the car.
If, on the other hand, the car sells for less than what the owner owes Nedbank, the owner will be responsible for paying the outstanding amount.
Hints and tips to pick up Nedbank repo vehicles
Give the vehicle a thorough up and down and all around before you buy it. If possible, ask if you can take the vehicle on a short test drive to make sure that it is in good working order. Check for any damage or scratches to make sure that you are getting to right price for the condition of the vehicle.
Buying a repossessed vehicle does require some knowledge of mechanics. You can't judge a car by its paint job, and you need some relevant know-how. To make sure that you are not being ripped off and landing up with a junk heap. So if you don't know much about cars, bring along someone who does.
The name of the auction house does matter. Good auction houses won't rip you off and won't sell under-par goods. So do your research to ensure that the seller has a sound reputation.
The place where you are bidding should have a mandatory registration fee. This ensures that "joybidders" don't just attend the auction to drive the prices up. Without actually intending to buy anything.
If you are attending your first car auction, it may be overwhelming. So do you research to see how they work and learn about the rules. If possible, bring along a friend or family member who has attended one before.
Instead of going through an auctioneer to find a repossessed vehicle, contact Nedbank directly. To ask if they have any vehicles to auction off.
Some banks will use an online property listing or conduct a sale on site. Therefore you may be able to get a list of Nedbank repossessed cars for sale in South Africa.
This may also interest you: Find Lists of Repossessed Cars For Sale Online
In Conclusion – Nedbank Repo Vehicles
With things like lockdown because of the Covid-19 situation some people are losing jobs and businesses.
Because of this there are an increasing number of cars being repossessed in South Africa. It's a sad fact.
On the other hand one persons loss is another persons gain.
So head on down to an MFC auction to see what Nedbank repossessed cars for sale in South Africa are on offer.